Wild Heart retreats and garden stays offer a truly holistic experience for mind, body and spirit in the spectacular Tulameen River Valley in southern British Columbia. 

in the full-scale replica of the Chartres Cathedral Labyrinth.
Absorb the energies of the Chakra gardens
integrating plants, flowers, crystals, sounds, sacred geometry and running water.
by life seminars held in the beautiful octagonal Calliope centre.
Connect to Spirit and Mother Earth
Experience the Wild Heart Gardens
Attend a group energy healing session
Participate in a guided meditation
Journal or write an offering or prayer to spirit while reflecting in the Rose Cottage.
Enjoy nature walks & time to reconnect
Spend time with animal friends: baby-doll sheep, chickens, ducks, and horse
Savour delicious plant based meals in the romantic outdoor Kingfisher dining area while enjoying the pond, waterfall or outdoor fireplace.
Relax in the luxurious outdoor "glamping" accommodation as you connect with Mother Earth
Author, Filmmaker, Energy Healer
We offer a beautiful, private wilderness setting with all the comforts of home. It's a place to reconnect to your true self – a place to be inspired and rejuvenated.
Susan is an energy healer and intuitive who facilitates healing on all levels – emotional, mental, spiritual and physical. 
Over the past 20 years she has worked with hundreds of clients in Canada, the US, Italy and Great Britain, addressing issues such as cancer, auto-immune diseases, depression, anxiety, migraine headaches, PTSD, insomnia, and chronic pain.
Susan directs healing energy into the body using gentle hands-on touch, and during the healing session she often receives intuitive messages for the client. 
Susan: "When working with a client, I usually start by tuning into their chakras [focal points of energy on the body]. I send direct healing energy into every chakra, transitioning these energy centres to a more active state to receive the healing energy. My hands will work on different areas of the persons body where energy is blocked. These can be areas not only of the physical body but also the emotional and spiritual body.  I often receive messages and images from their spirit guides and loved ones who have crossed over that help the client take their healing journey further and deeper." 
Healing sessions typically last between 30 and 50 minutes, and take place in Susan's beautiful, light-filled Healing Center. It is a serene, relaxing environment.
Meditation
Energy healer Susan Turner will be offering a variety of guided meditation sessions over the course of the retreat.
Examples of guided meditations:
Susan: "Meditation is critical for stilling the mind and slowing the constant internal chatter that so often fills our awareness. Once we have quietened our thoughts there is space for a deeper level of conciousness. It's often in these still moments that we receive insights and epiphanies, or enter a state of true peace and relaxation, giving our bodies the rest they so desperately crave."
Each retreat will feature a group meditation session.
Inspirational Life Seminars
During the retreats, Susan shares some of things she has learned through the past 20 years of inspired writing and channelled teachings with spirit.
Susan provides insight into understanding aligning with our life's path and soul's journey and what it really means to heal. Retreat seminars will include topics such as:
Raise Your Vibe: Understanding the energy of our physical, emotional, and spiritual selves to feel our very best.
Celebrating Your Life: Connecting to your soul's journey and embracing your life's path.
Connecting to Nature: Understanding how nature can offer us inspiration and healing. Or, using essential oils as a tool to support health and enhance your connection to nature.
Introduction to Mediumship: Connecting to those who have passed.
Certified Aromatherapist Sharon Anderson will be on site to provide guidance on using essential oils to promote healing, rejuvenation, and inspiration. Essential oils can help release muscular tension, improve circulation, ease stress, reduce mental and physical fatigue, and are able to provide a powerful connection to nature as well as a practical way to incorporate the healing power of plants into a daily wellness practice. 
Sharon believes that "Essential oils, when applied and received with love and compassion, provide an opportunity for a deeper connection with Gaia and Spirit." 
All meals served at the retreat are plant based and sourced with fresh, vibrant, local and organic ingredients.
Many of the fresh herbs and veggies used during the retreat will be harvested from the on-site greenhouse. (For a taste that is as fresh as it gets!)
Whether you are a committed vegan or vegetarian or a skeptical carnivore, give plant based eating a try during this retreat to find out what it can offer you! 
Plant Based-Chef, Zuzana Fajkusova
Zuzana is also a holistic health practitioner and the author of the Vegan Weight Loss Manifesto and Plant-Powered Athlete.
"I am passionate about holistic healing and creating balance and harmony within the body and mind. If peace and happiness begin with loving ourselves, then food must play a vital part. Since my early childhood, cooking has been my language of love, and that's how I express myself and share it with people. Nature is my inspiration and I love discovering new ingredients, learning about their health benefits and incorporating them into my culinary creations. If you ask me what's my magic power in the kitchen, the answer is short and sweet – making healthy taste good."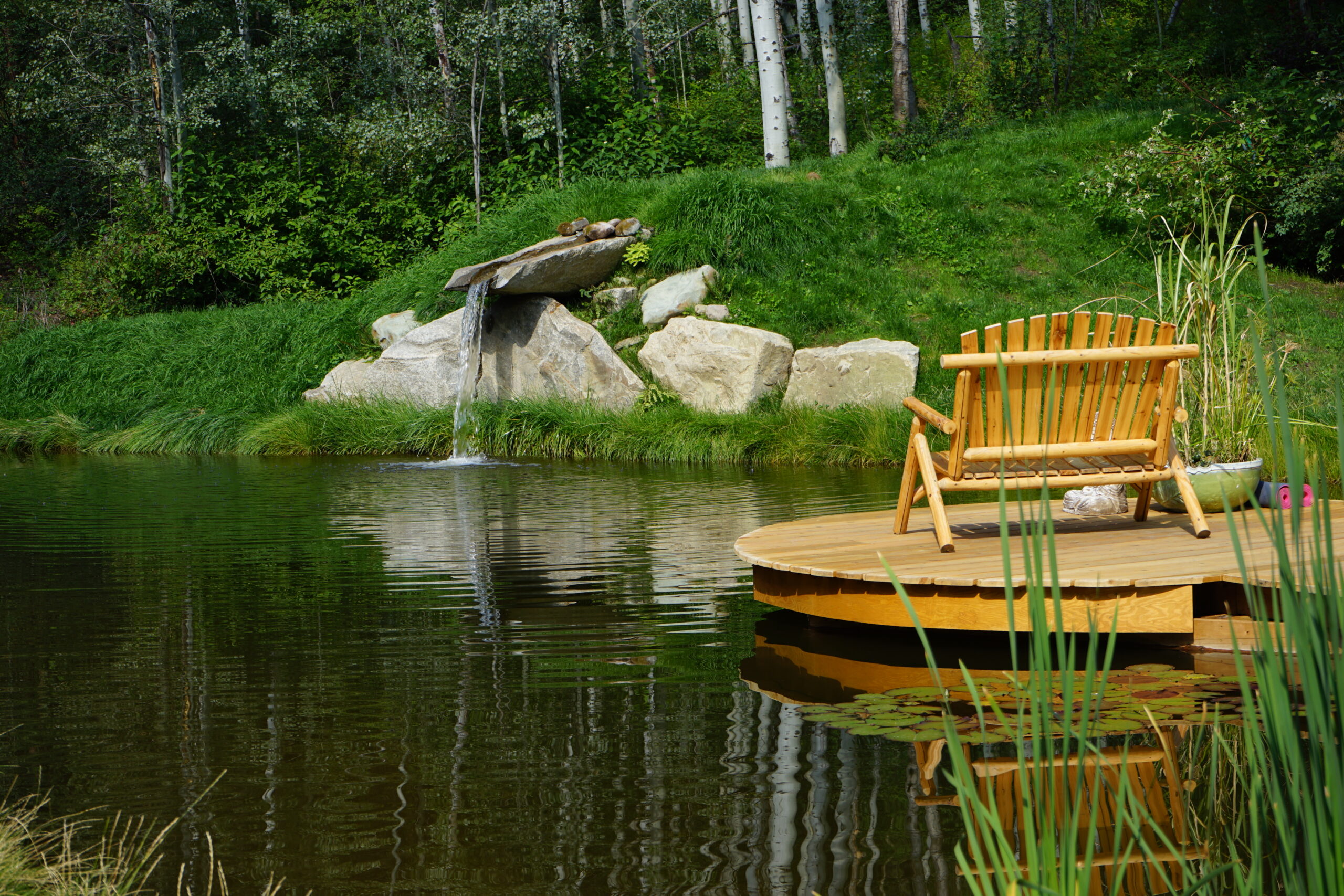 Wild Heart gardens are a sacred space to connect to the high vibrational energy of both earth and spirit; a space to connect to your inner self during the retreat, finding both reflection and inspiration.
The experience of the garden space has been inspired to bring forth all the qualities of life that can be found in the love and wisdom of the earth and in the spiritual aspects of our lives.
Sitting on the hillside there is a white marble statue of Kwan Yin. She looks down over the gardens shining love and light over the land and its visitors.
Wild Heart Garden Features
The pergola provides a romantic seating area opposite the pond where guests can gather for meals or reflection after the days events as they enjoy the warm glow of the outdoor fireplace.
The pond is a tranquil place to sit and soak in the surrounding beauty or watch dragonflies dance around the waterfall. The Lily Pad dock is a wonderful spot for morning yoga or admiring the Koi swim.
We have a full-scale replica of the 12th Century Chartres cathedral Labyrinth. This labyrinth is 42 feet across and has 11 concentric circles which allow visitors to walk an 861 foot path from the entrance to the center.
We have created a series of seven gardens along a path in the shape of a Fibonacci Spiral (also known as the Golden Proportion). Each garden represents a specific Chakra energy – root, sacral, solar plexus, heart, throat, third eye and crown. 
Chakra Gardens - (continued)
The Chakra gardens are one of many places to sit and reflect in the gardens. They combine the energies of plants and flowers as well as their fragrance, sound, crystals, the elements including running water, colour, and sacred geometry.
At the top of the Chakra Gardens is a phone booth inspired by Itaru Sasaki from Japan. A 'wind phone'; a private place to talk to loved ones who have transitioned to the spirit world. Mr Sasaki's booth has received over 30,000 visitors and was such an inspirational story that we decided to adopt a phone booth from England and have a 'sister wind phone' in our garden to help provide solace to visitors.
In the centre of the garden there is an energy vortex where powerful earth energy rises up out of the ground. It lies on the confluence of two Ley lines that cross through the garden area. 
The Rose Cottage offers an endearing room to sit and write your offerings or prayers to spirit, your higher self, the divine or to the universe. It is one of many places throughout the garden to absorb the uplifting effects of nature.
The Willow garden provides a private alcove to sit and meditate, or simply relax. Nestled in a circle of willow, visitors will find a bench beside a small pond where they can reflect while listening to the gentle sound of flowing water.
Connecting with animals is an integral part of the Wild Heart experience. At Wild Heart visitors will be able to spend time with animal friends: baby-doll sheep, chickens, ducks, and horse.
Connect to the Energies of the land as you Sleep
All retreat accommodations are open to the fresh Tulameen, BC river valley air and surrounded by fragrant fir and pine trees.
The luxurious open air "glamping" sleeping quarters enhance the retreat experience of connecting to the healing energies of the earth.   See More 
Author, Filmmaker, Energy Healer
Feel free to experience the beautiful gardens and wilderness setting at your own pace. Rejuvenate, reconnect to your true self, be inspired, all while deeply experiencing the sacred power of Mother Earth.
All guests will be welcomed to Wild Heart Spirit Heart and given an orientation tour on the evening of their arrival. The tour will highlight the unique intent and energies of the gardens and the facilities.
All Garden Stays include open access to all elements of the Wild Heart Gardens. Meander through the gardens, stopping to connect with spirit and earth at a leisurely pace. Sit and journal or meditate. Return as often as you wish.
All Garden Stays include the option of organizing shared evening activities with other garden stay guests. Possible activities include an evening candle lit labyrinth walk, group earthing, a short hike, or chatting and singing beside the outdoor fireplace.
All Garden Stays include plant based meals prepared from fresh organic local produce and our onsite greenhouse. Meals will be prepared by our chef and served in the BlueBird or the Kingfisher Pergola allowing guests to enjoy the surrounding natural beauty as they dine.
Each morning guests are greeted by the rising sun and bird songs. Each cottage has a bed, an armchair, dressers and lovely placed decoration. Each cottage gable end is screened to ensure a bug free, fresh mountain air sleeping experience. 
The experience of working with Susan was such a gift to my soul. I came away with a renewed sense of hope and understanding of my spiritual connection to all things. I was so pleased with the facility and felt so loved by the whole experience.
This retreat was the most transformational thing I've ever been through in my life. I've been singing, I just feel so alive!
I've been searching my whole life and now my search is over. I am so blessed that this experience was brought into my life. The kind and compassionate way Susan interacts with nature, animals, and people is amazing. My experience on retreat was AWESOME!